Tsadra Foundation
Dissertation Fellowship for
Tibetan Buddhist Studies
Announcement!
We are happy to announce the recipients of our new grant for graduate students engaged in Tibetan Buddhist Studies at North American universities.
The recipients of the 2021 fellowship are:
Annie Heckman (University of Toronto)
Khenpo Yeshi (University of California, Berkeley)
Miguel Sawaya (University of Virginia)    
This fellowship program provides one-year grants of $35,000 to graduate students at North American universities in order to support them in their pursuit of dissertation research focused specifically on Tibetan Buddhism. Dissertation research must include significant textual work on Tibetan Buddhist primary sources and include translation into English. 
The purpose of the grant is not only to encourage more research in the area of Tibetan Buddhism but also to encourage the sharing of academic research with the larger world. Within one year of finishing the grant term, recipients will be required to submit an essay aimed at sharing their dissertation research with a nonacademic audience, with the purpose of advancing Buddhist literacy in North America and connecting educated readers with the research of academics on topics in Tibetan Buddhist studies. 
The academic committee, composed of professors at major universities across North America who are leaders in the field, reviewed many detailed applications, deliberated and debated, and finally voted on these candidates from a shortlist of truly amazing scholars.
We wish to congratulate all of the applicants on their wonderful projects and look forward to seeing the fruits of their labors.
Learn more about the 2021 Dissertation Fellowship Recipients
Annie Heckman (University of Toronto)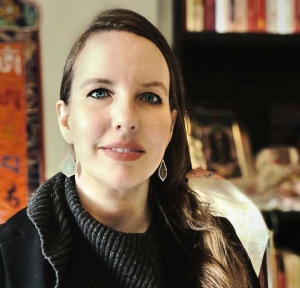 Annie Heckman is a doctoral candidate in the University of Toronto's Department for the Study of Religion and Book History and Print Culture collaborative program. Born in Chicago, Heckman studied in the arts (BFA University of Illinois at Chicago, 2002; MFA New York University, 2006), teaching at DePaul University before turning to Tibetan language and literature (University of Chicago Graham School, 2013–14; MA University of Toronto 2016). She contributes to Bird of Paradise Press in Virginia and reviews Dunhuang manuscripts at McMaster University, where she was an Ontario Visiting Graduate Student (2017– 2019). Her dissertation focuses on a Tibetan digest of narratives for nuns' rules in the Mūlasarvāstivāda-vinaya.
Dissertation Topic: "Reassembling Discipline: A Study of Butön's Compendium of Narratives for Nuns"
Khenpo Yeshi (University of California, Berkeley)
Khenpo Yeshi was born in 1969 in Nakchu, Tibet, and walked across the Himalayas to India as a refugee at the age of 20. There, he pursued studies at several monasteries of the Geluk, Kagyu, and Nyingma schools. After completing a three-year retreat, he taught both monks and westerners at Rangjung Yeshe Institute in Kathmandu, Nepal. In 2001, he moved to the United States and received a B.A. (2012) and an M.A. (2017) from UC Berkeley and is now a doctoral candidate. His research focuses on Tibetan Buddhism and the early development of the Great Perfection (rdzogs chen) Heart Essence (snying thig) tradition.
Dissertation Topic: "Seeing without Looking: The Eleven Topics and the Formation of Tibet's Heart Essence"
Miguel Fares Sawaya (University of Virginia)
Miguel Sawaya holds a BA in Jazz Performance from UCLA and an MA in Indo-Tibetan Buddhism with Tibetan Language from Naropa University. After completing the year-long Translator Training Program at Rangjung Yeshe Institute, Kathmandu University's Centre for Buddhist Studies, he worked there for six years as a Tibetan language instructor and interpreter for Buddhist philosophy courses taught by monastic instructors. He translates for the 84000 project under the auspices of the Dharmachakra Translation Committee, interprets for several Tibetan Buddhist teachers in a variety of contexts, and is currently pursuing doctoral studies in Buddhism at the University of Virginia.
Dissertation Topic: Tsele Natsok Rangrol's contemplative practice material