Introduction
Buddhist wisdom is clearly expressed in the wealth of writings that comprise its accumulated learning and that demonstrate the keenness of its analytical discernment. Tsadra Foundation is committed to ensuring the best possible transmission of this wealth of knowledge and understanding through quality translations of important Buddhist texts and commentaries.
We are particularly interested in the translation of the core curriculum of the traditional college of studies, as well as texts that will benefit individuals who are actively engaged in the contemplative process.
In keeping with the non-sectarian approach of the Foundation, the texts selected for translation represent a variety of traditions and views.
At the present time we support translation into English and French.
Featured Translation Projects
The Treasury of Precious Instructions
Essential Teachings of the Eight Practice Lineages of Tibet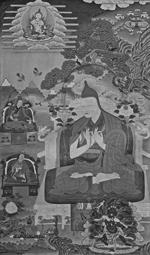 The Treasury of Precious Instructions by Jamgön Kongtrul Lodrö Taye, one of Tibet's greatest Buddhist masters, is a shining jewel of Tibetan literature, presenting essential teachings from the entire spectrum of practice lineages that existed in Tibet. In The Treasury's eighteen volumes, Kongtrul brings together some of the most important texts on key topics of Buddhist thought and practice as well as authoring significant new sections of his own.
Project Status:
Volumes 1 & 2: Nyingma – Richard Barron (Chokyi Nyima) is finalizing the translation of Volume 1
Volume 7: Marpa Kagyu – Elizabeth Callahan has begun translation
Volume 13: Zhijé – Sarah Harding is finalizing the translation
Volume 14: Chöd – Translated by Sarah Harding and Published by Shambhala
Volume 16: Miscellaneous Texts – Stephen Gethin of Padmakara Translation Group has begun translation
The Complete Nyingma Tradition
From Sutra to Tantra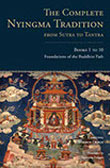 In honor of Lama Tharchin Rinpoche and with deep appreciation for his extraordinary kindness and generosity to a generation of Western Buddhist students, Tsadra Foundation is delighted to bring to fruition his long-held dream of making this seminal work available to English speaking students. The first volume comprising Books 1-10, Foundations of the Buddhist Path appeared in June 2015; a second volume comprising Books 15-17, The Essential Tantras of Mahayoga appeared in 2016. Book 13, Philosophical Systems and Lines of Transmission, and Book 14, An Overview of Buddhist Tantra, appeared in 2017.
Project Status:
Books 1-10 – Translated by Ngawang Zangpo and published by Shambhala
Books 15-17 – Translated by Gyurme Dorje and published by Shambhala
Book 13 – Translated by Gyurme Dorje and published by Shambala
Book 14 – Translated by Ngawang Zangpo and published by Shambhala
Books 18-25 – Forthcoming