Tibetan Publications
Jamyang Khyentse Wangpo, Jamgön Kongtrul, and Chogyur Lingpa spent years wandering throughout Tibet collecting rare books along with their lineages of empowerment and transmission. These are for the most part preserved within Kongtrul's famed "Five Treasuries." Taking its inspiration from the extraordinary preservation work carried out by these masters, Tsadra Foundation's Tibetan Publications Department is currently working with more than twenty different partners to locate, preserve, and disseminate texts and rare lineages of Tibetan literature. From small instructions to huge collections, we have more than sixty such projects active at any one time.
Publications Supported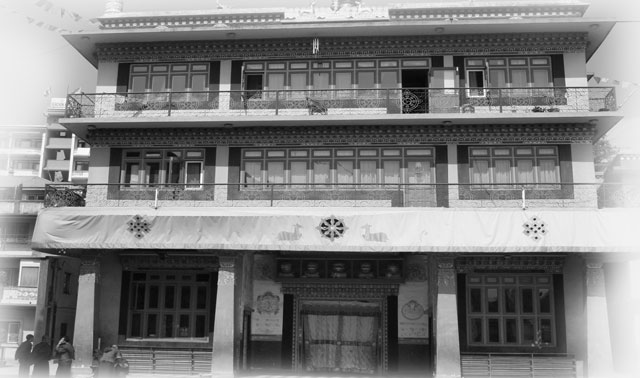 Benchen Publications
Benchen Monastery in Nepal has established two publishing houses: Benchen Lekshe Gyunkyong Khang and Sungrab Gyunpel Khang, which serve to preserve the teachings of both Kyabje Drubwang Sangye Nyenpa Rinpoche and Kyabje Tenga Rinpoche, as well as other rare practice texts. Supported since 2015.
Bokar Publications
Through the inspiration and guidance of Khenchen Lodro Donyo Rinpoche, Bokar Publications was established in 2015 with the mission to collect, transcribe, and publish the teachings of earlier and contemporary masters, principally Kyabje Bokar Dorjechang, and to preserve and publish other rare teachings and texts. Supported since 2016.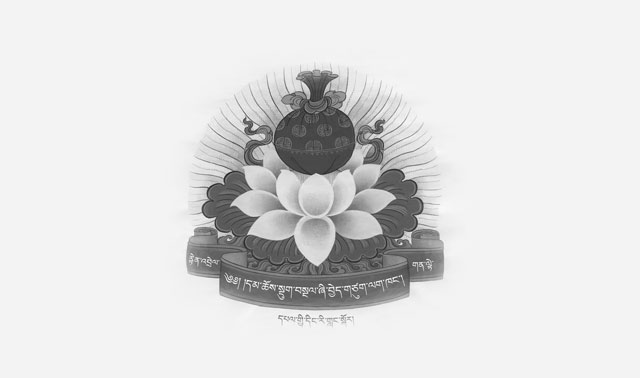 Dingri Langkor Zhijed Ling Publications
In 2006 Zhijedpa Au Lama Tsultrim Gyaltsen and Dungzin Dampa Rinpoche established Dingri Langkor Zhijed Ling, with the blessings of Kyabje Trulshik Rinpoche and Kyabje Chatral Sangye Dorje Rinpoche, and work with Ngawong Sangye to preserve the sacred doctrine of the Buddha in general and the Zhijed and Chod teachings in particular. Supported since 2013.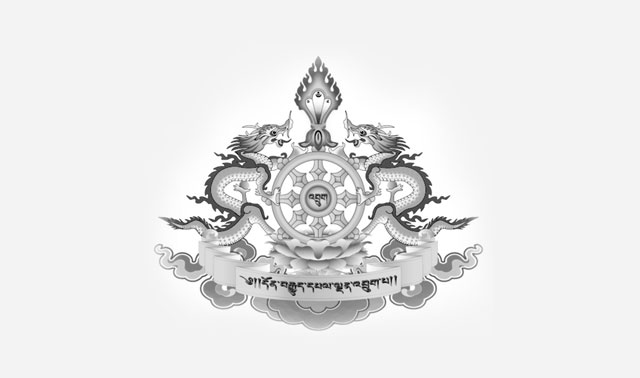 Gautam Buddha Vihara
Gautam Buddha Vihara, along with its extensive library, the Library Dedicated to the Flourishing of the Wondrous Lineage of the Drukpa Kagyu, was built by Tharchen Dorje Lingpa Rinpoche (Lama Thinley Namgyal Rinpoche) in Swayambhu, Nepal. Since its inception, rare and unique writings of past masters have been gathered from all over the Himalayan region, compiled into collections, and printed, along with single volumes of important pith instructions, biographies, and important commentaries. Supported since 2011.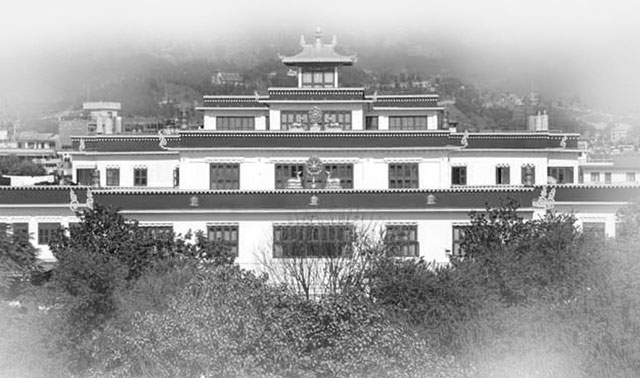 Ka-Nying Shedrub Ling Publications
Ka-Nying Shedrup Ling Publications is dedicated to presenting commentaries by contemporary Buddhist masters of the Tibetan tradition, especially Mahamudra and Dzogchen. Supported since 2015.
Nitartha International Publications
Nitartha International Publications was founded under the direction of Dzogchen Ponlop Rinpoche. Their publications include important commentarial and practice literature of the Kagyu and Nyingma traditions. Supported 2005 – 2010.
Palpung Monastery Printing House
The Palpung Monastery Printing House is one of the principal sources of Buddhist texts in Eastern Tibet. Tsadra Foundation funded the wood-block carving of the collected writings of Tai Situ Pema Nyinje, Jamgön Kongtrul's Treasury of Instructions, Collected Works of the Eighth Karmapa Mikyö Dorje, and Collected Works of the Seventh Karmapa Chödrak Gyamtso. Supported 2006 – 2010.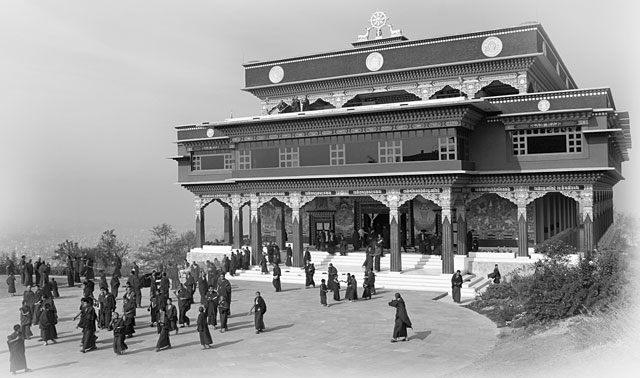 Rigpe Dorje Institute
Rigpe Dorje Publications was launched in 2008 to fulfill the vision of the Third Jamgön Kongtrul Rinpoche. Rigpe Dorje Publications aims to support both branches of training through its works in the Rigpe Dorje Study Series and the Rigpe Dorje Practice Series. Supported since 2009.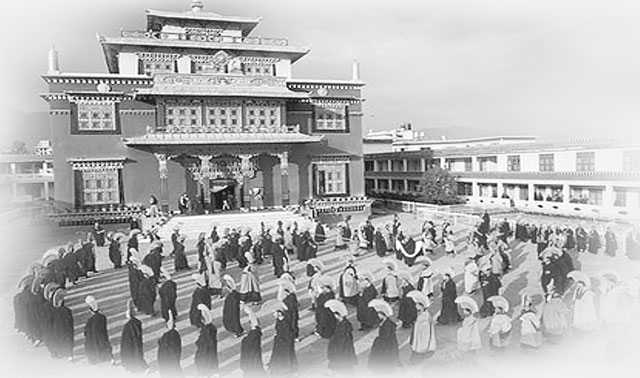 Shechen Publications
Under Kyabje Dilgo Khyentse Rinpoche's direction, hundreds of volumes were printed, preserving the Buddhist literary tradition of Tibet. Shechen Publications continues the publication of numerous volumes of books under the direction of Shechen Rabjam Rinpoche, Shedrup Chokyi Gyatso, and Ven. Gelong Matthieu Ricard. Supported since 2000.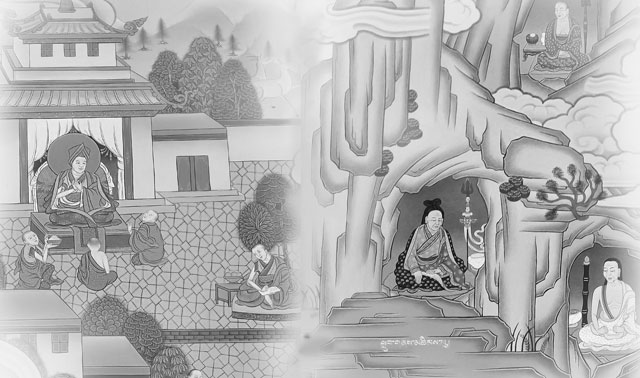 Tsadra Publishing
Tsadra Foundation participates in the publication of Tibetan collections in Asia. Through our Tibetan Publications program, we collaborate with and sponsor Tibetan-language publishers to make important collections available in both print and digital form. In this section you will find titles acquired and produced by our Publications Department.
Tsoknyi Gechak Publications
Tsoknyi Gechak Nunnery was founded in Nangchen, Eastern Tibet, in 1892, and subsequently a branch nunnery was built in Nepal. Under the guidance of Khenpo Konchok Palden, Tsoknyi Gechak Publications is dedicated to preserving and spreading the lineages of Ratna Lingpa and the unique tradition of Geckak, such as the extremely rare 18 volumes of Tsayang Gyatso's writings. Supported since 2015.
Vajra Vidya Institute Library / Thrangu Gompa
Vajra Vidya Institute is a monastic college offering training in higher Buddhist philosophy. It was established by the Venerable Khenchen Thrangu Rinpoche to preserve the Karma Kagyu lineage of scripture and realization. The Vajra Vidya Institute Library publishes scriptures, treatises, and texts of oral and key instructions. Supported since 2010.
Paltsheg Publications
Alak Zenkar Rinpoche is renowned for his tireless activity in seeking out rare collections of Tibetan texts, especially those in danger of disappearance, and arranging for their publication. In each case, the agreement is for a limited edition of one hundred sets, which are then distributed free of charge to selected monasteries and institutions of higher learning. Supported 2003 – 2006.