Just Out of Retreat
Contemplative Scholarship Alumni Share their Experience and Advice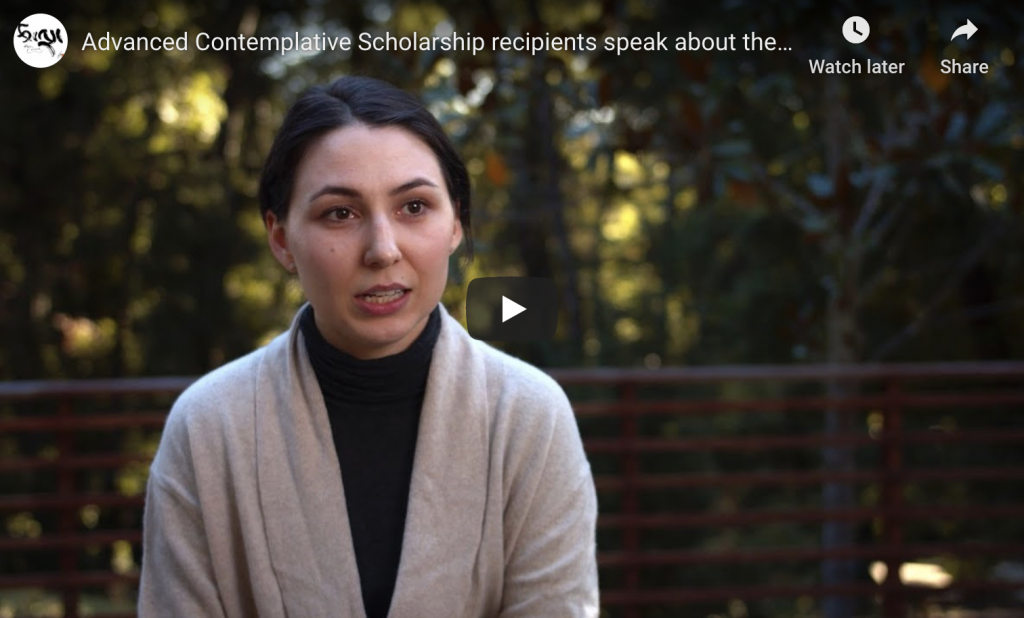 On October 29th, 2019, a small group of Buddhist practitioners shared their experiences after being cloistered for three-years in a Tibetan Buddhist retreat.
Periods of solitary meditative introspection have always been at the heart of Buddhist practice, but in Vajrayana Buddhism, understanding of subtle body and energy-wind elements led to the custom of retreats lasting three years and three fortnights. It was Tai Situ Rinpoche and Jamgon Kongtrul Rinpoche of Palpung Monastery and Tsa'dra Rinchen Drak Hermitage who in the 19th Century initiated the first "group" three-year retreat programs. Since then, these have become the customary contemplative training, particularly in the Kagyu and Nyingma traditions. While the idea of the three-year retreat has become familiar in Tibetan Buddhist circles, less known is the fact that there is a variety of styles and formats depending on different traditions and teachers.
The traditional three-year retreat requires that the individuals cloister themselves alone or in a small group for the full retreat period with limited contact with the world at large. Retreat centers may be structured differently, some with a single building or building complex, others with separate cabins. Some are more "monastic" in flavor, others more "yogic". In any case, most of the time is spent in one's own room following a rigorous practice schedule. During this time a strict program of practice is maintained involving often 12 to 14 hours of meditation each day, as well as daily and/or monthly group "ritual" practices. Through the course of retreat students are trained in the Vajrayana curriculum of their respective Tibetan Buddhist tradition.
Among the vast array of Tsadra Foundation activities, one of the least visible is the Advanced Contemplative Scholarships. The nature of this activity is obviously "out of sight" and so is less apparent than most of the Foundation's other activities.
Each year we accept applications from individuals who satisfy our criteria for a scholarship, and select a number of worthy candidates who are then supported financially for their retreat. Candidates must have been accepted into a traditional three-year retreat program or if having already completed such a training may apply for a scholarship to support a solitary retreat for a period of one year or longer. More details about eligibility for our Advanced Contemplative Scholarships can be found at https://www.tsadra.org/scholarships/advanced-contemplative/.
Since the beginning of the Advanced Contemplative Scholarships in 2010 we have supported over 100 individuals in 15 different retreat centers and a number of solitary hermitage sites. Last October I was able to visit one of these retreat centers, at Pema Osel Ling in California. Located in the beautiful Santa Cruz mountains, the retreat was developed by Lama Tharchin Rinpoche and is currently under the spiritual authority of Yangsi Dujom Rinpoche. I was kindly received by the center director Lama Sonam, and retreat master Lama Frederico Trancoso.
I met with several of our scholarship students who had completed their retreat one week before. With the kind agreement of the Lamas, administrators, and the students themselves, we were able to make a short film in which these students speak of their experience, giving a glimpse into the life in three-year retreat.
Tsadra Foundation is happy to share with you this film of Analise Kunzang Palmo, Alana Pema Yudron, Sveta Carelli, and Chris Carelli, in which they speak of their experience and offer advice to future retreatants considering entering a three-year retreat. 
Anthony Chapman / Lama Drupgyu
Vice-President and
Director of Advanced Contemplative Scholarships